Your business always starts on mobile!
People spend more time on apps than any other medium. Building relationships via mobile apps is therefore essential. Influenzo can accompany your brand through the complete mobile customer journey or we help you solve a specific mobile issue. Let's talk!
Mobile Apps
Ideation, design, functionalities, security, etc. We put heart & soul in your app.
Mobile Engagement
Rich push notifications increase open rates by 56%. What more do you want?
Mobile Coupons
Your cash register rings more often thanks to interactive offers, promo's, etc.
Mobile Marketing
People use their smartphones anywhere, anytime for just about everything. But how to get through the clutter? How to get noticed in the abundance of apps en content. How to make your brand indispensable on mobile? Those are challenges we take on for your clients.
We build your app!
Our cloud based apps liberate users from storage issues and require only minimal storage in the internal memory. High speed loading of pages considerably reduces bounce rates. This provides more visitors, better page ranking, speedy content modification, high CTR, improved ad visibility, etc. Security is a top-priority at Influenzo because smartphones often contain sensitive data. Safety and security are built-in features to remain independent from third-party apps. Of course, we benchmark your briefing to the best available on the market. This is how we make a difference.
Swipe the future!
Apps are everywhere. Amazing user experience, high added value and attractive design are prerequisites. We work together from app idea to total development, from publishing (App Store & Play Store) to app marketing on your target audience. We offer:
Web, mobile, tablet apps in iOS and Android
Publishing on App store and Play store
App marketing for more downloads
App content & engagement
Trigger your app users into action with e-Beacons
Thanks to eBeacons, your visitors receive the right message at the time at the right place via their mobile app in any indoor situation. Notifications are in function of the profile, previous visits, purchases, time, location, preferences, etc. Flexible and affordable, beacon-triggered messages allow brands to offer a personalized and relevant mobile experience, for instance in …
Retail, hospitals, healthcare, finance
Events, conferences, festivals, markets
Logistics, construction, industry
We help mobile marketers and e-retailers reach and engage their mobile customers with effective experience strategies. Indoor or outside, commercial or cultural, beacons of coupons,  we always offer affordable and reliable solutions. Talk to us about your project.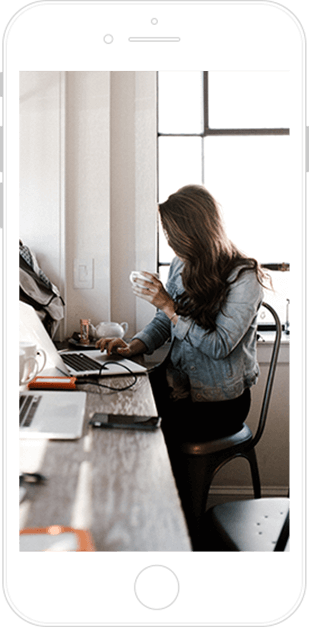 "Smartphone users touch their phones 2,617 times each day, and spend an average of 145 daily minutes on their mobile phones."
Every millisecond counts to capture and engage users via messaging channels on their mobile devices with a unique brand experience both inside as beyond an app. By providing positive brand experiences you support and strengthen business objectives such as growing your audience, increasing revenue or building long-term relations with customers and consumers. Influence is mobile!
Direct open rate for rich notifications
Of all emails open on mobile devices
Rich Messaging
Include photos, videos, GIFs and audio in a push notification, and deliver it right on your user's lockscreen. We set up your campaign.
Location-Based Messaging
Improve response rates by up to 5x. We provide geofencing and  GPS solutions as well beacons for indoor usage or location-based apps with  RFID, NFC, or QR codes.
Interactive Notifications
Multiple response options allows users to interact at a deeper level. Marketers capture user responses for follow-up. Let us help you.
Mobile Personalization
Develop hyper-personalized interactions based on customer data. We deliver value through smart segmentation, precision targeting and real-time messaging.
In-App Messaging
Text notifications appear inside your app via a banner on the user's screen. Reach the majority of your app audience with no opt-in. What's your strategy?
Mobile Wallet
Recruit and engage customers with loyalty, gifts, points, alerts, memberships, and more  with Apple Wallet and Google Pay as the central repository.  This is a must-do!
Are you ready to start with mobile engagement?
Mobile coupons activate your customers instantly!
Coupons and e-vouchers give you new opportunities to boost traffic and sales faster than ever! Distribute coupons via email, SMS, social media, in-app, mobile wallets, wifi zone, beacons, NFC tags, and QR codes on print materials. Results come in real-time.
With our unique mobile coupon platform, we create your custom digital coupons and vouchers to your brand style, manage distribution, follow user interactions, check and safeguard validations, ensure data capture and monitor statistics to increase your sales.  Our system is absolutely fraud-resistant. We can even set up your first coupon campaign in 1 day. ROI for sure. 
Increase turnover even more with Fun Coupons!
Add gamification to your mobile marketing with fun and engagement in your promotional offers. Integration of contest elements offers users extra suspense and fun. You determine prizes and personalize winner and loser messages.  Reinforce your branding, increase virality and improve data capture by using fun coupons, such as …
Scratch & Win
Spin & Win
Slot Machine Bingo
Possibilities for your brand on mobile are unlimited. Truly, it doesn't have to be complex, expensive or highly technical. Influenzo helps you with your mobile strategy or by setting up quick-win implementations.
Questions? We'll be happy to answer!
"If your brand is not active on mobile, you are missing out on opportunities and potential customers. We'll be happy to help."
"A native app is a possible step in a mobile strategy. You also need effective app marketing to generate downloads and ongoing interactions.".
Discover our other services
Combine influence with our unique services and partner expertise in performance media, creative content, conversion acceleration, mobile solutions, and augmented user experience. Influenzo always has a smart and affordable solution!
Do you want to work with us?
You want to start with mobile marketing or your app urgently needs a wake-up call? Talk to us, in complete confidence, about your ambitions or give us your mobile briefing for a quote.
This post is also available in: Nederlands (Dutch) Français (French)